July 14th, 2012 |
Filed under:
teacher productivity
Thinking a lot about how I read and, more importantly, how I act on what I read online. Also playing with the paper app for iPad in sketching out this workflow. I save many things to Instapaper, but not all of that gets read. Sometimes I log into my Instapaper queue and realize something isn't relevant to me anymore, so it gets trashed. Otherwise I follow this workflow: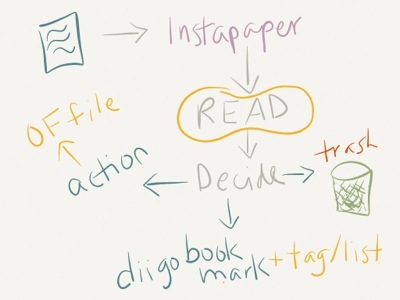 Basically I read or scan the link and do one of the following things: create an action item related to the reading in Omnifocus, save and tag the link in diigo, or trash it. I am working on doing more trashing than saving, because I want my diigo library to be useful and not a catch-all for links.
I'm toying with throwing Evernote into this mix if it's something that might work for a specific unit or lesson, but still not sure if that's helpful or "just another thing."
---
Tags:
diigo
,
gtd
,
Instapaper
,
omnifocus
,
productivity
,
workflow project
1 Comment »