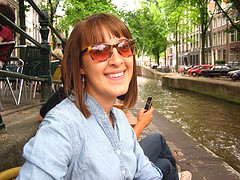 My name is Mary Worrell and I'm an American newspaper reporter-turned-teacher living in The Netherlands.
There's no other way to say it – I love being a teacher. I love being a teacher because I love being a learner and that passion is what I aim to spark within my students. My professional interests include project-based learning, technology and social media in education, virtual community building, teaching comics and graphic novels, and LGBT issues in the secondary classroom…just to name a few. I'm a proud geek and think the Internet has and will continue to revolutionize the way our students interact with their world. Learning is the foremost goal in my classroom, but technology infuses these learning experiences as a tool and portal to learning beyond the walls of our school, community, and narrow perspectives. I aim for students to leave my classes with fresh, global perspectives, a hunger and ability to learn more, and the confidence to do something great with that learning.
I have a teaching license from Old Dominion University in secondary education with endorsements in English and journalism. I graduated from ODU in 2006 with a Bachelor of Arts in English with a journalism emphasis. Most recently I completed my Master of Arts in Educational Technology (MAET) at Michigan State University.
Being a business reporter fed my love of learning and talking (and my penchant for nosiness), but after a few years I decided quit my newspaper job in Norfolk, Virginia and head back to school to pursue education and my secondary teaching license. I was looking for something even more challenging and fulfilling for my life. From the moment I stepped into a classroom for my first practical experience, I knew I had found my true passion – helping students learn. My students in the United States gave me some of the most perspective-changing experiences of my short teaching career before I decided to uproot myself and move to The Netherlands for a new adventure. I am part of an amazing team of educators at a new international school in The Netherlands where I teach English Language & Literature according to the Middle Years Programme of the International Baccalaureate. During the first few years of our small school, which opened in the Fall of 2012, I taught Technology in addition to English. Now we have grown and I am "just" an English teacher in addition to being part of the tech integration team. Opening a school is an incredible feat that requires lots of grit and hat changes, but I'm grateful to be a part of it.
I also worked as Program Administrator and Community Leader with Powerful Learning Practice, a professional development for educators. Through my work with Powerful Learning Practice I played a small part in facilitating professional development experiences for thousands of teachers across the U.S., Canada, and Australia. Learning (I never saw it as work) alongside so many inspiring educators drove home to me at an early stage in my career the importance of teachers being learners first and the power of networked learning in professional development. I would me remiss if I didn't say how important PLP and working with Sheryl Nussbaum-Beach was to the development of my teaching philosophy and my perspective on what it means to be a teacher-leader.
When I'm not teaching or learning, I enjoy reading, writing, ruminating on my immigrant experience, thinking about issues in education with my personal learning network, experimenting in vegan cooking, and knitting a few stitches.
The information on this blog reflects my own ideas and opinions and is not meant to reflect the views of my employer.
If you would like to chat privately, please contact me. Or, find me online!
---